Average procedure cost of thread lifting procedure in 6 countries.
Consumer Cosmetic Procedure Trends and Costs over 6 months.
Consumers in the UK and globally have been showing increasing interests in non-invasive cosmetic procedures. Patient interests have shifted increasingly towards enhancing their looks, seeking a more rejuvenated appearance with minimal downtime as an alternative to surgical procedures.
We would like to take this opportunity to share some trend data from the UK regarding the growing interest in non-surgical cosmetic procedures.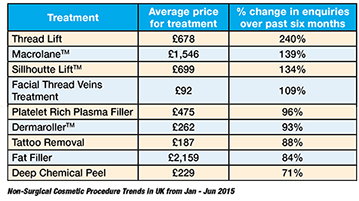 Treatment costs depend on a number of factors, including the extent of anticipated enhancement, the number of threads used, the surgeon's fees and the fees of the facility.
The statistics shown in the grid below was based on average cost of thread lift procedure for both face lift and nose augmentation (Both procedures takes around 20 minutes each)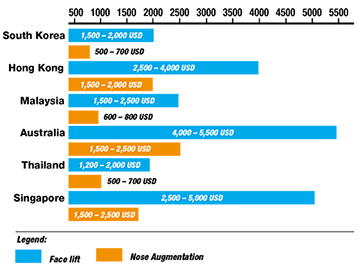 Fascinated to find out more about this progressively popular procedure?
Register here to attend the upcoming Hands on Korean Thread Lifting Workshop organized by American Academy of Aesthetic Medicine (AAAM) in Melbourne, London, and Singapore. An AAAM certificate will be issued upon completion of the workshop. Maximum Admission of 12 Delegate per session to ensure the best hands on learning experience and training is provided.
June 24-25, 2016; Melbourne, Australia
July 23-24, 2016; London, United Kingdom
August 20-21,2016; Singapore
Click here to see Course Details and Speaker Information.
Contact Us: valerieliu@ezyhealth.com if you have any questions.